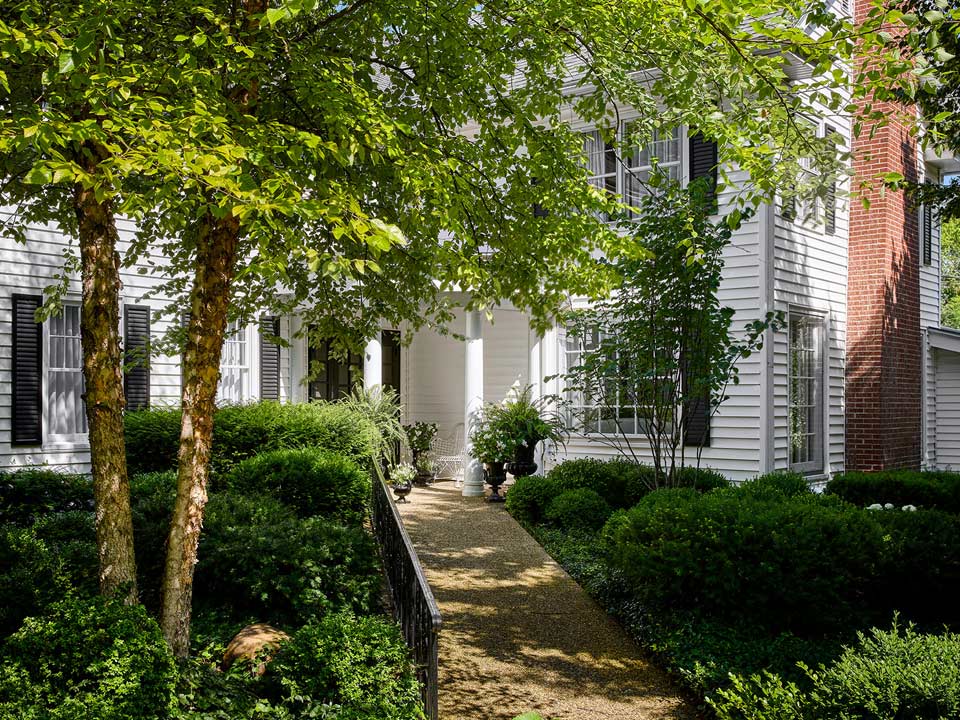 Conversation with: Jeff West
The Wickwood Inn would be nothing without Jeff West. More than the face of the inn, he is also its beating heart. While every hospitality veteran claims to be obsessed with the customer's experience, Jeff really means it, and he proves it every day by gracefully enfolding guests into his world while being 100 percent himself. Here, we catch up with the San Antonio, Texas, native during a rare moment of rest.
What is your hospitality philosophy?
I believe in the concept of "unreasonable hospitality." The physical space, the ambiance, the food, the gracious service—all the details of excellence—are ingredients in the recipe of human connection. And unreasonable hospitality gives people a sense of genuine belonging, making them feel seen so they know they are welcome.
What's your favorite thing about running the Wickwood?
It sounds like a cliché, but it's the people. I love the team that I work with and mentor, and of course the guests. It is my delight when a guest expresses how great it is to go to a place and have the kind of experience that we make possible. We have a guest book and every day, people are writing wonderful things. It's embarrassing when I look through it because it's all about me. One guest wrote me a handwritten card that said I was the "Marlon Brando of hospitality."
What has been the biggest surprise?
I am always surprised at where the people come from. We had at least three different couples from France. How you come from France to a little town in Michigan . . . it just blows my mind. One couple, it was their dream to do an American roadtrip, and they metaphorically threw a dart and it landed on Chicago. So they drove from Chicago to Toronto and stayed with us on the way up—and then on the way down. Their English wasn't great, and neither is my French. I had to use Google Translate a lot.
"A welcome that exceeded our expectations. A setting worthy of state of the art architecture. A studied decor full of history and subtlety. A breakfast that will delight your taste buds. A caring team and above all, clean linens assured and irreproachable. In conclusion, a most idyllic stay. Definitely recommend. With all our sincere thanks. Merci..."
What do you love about Saugatuck?
I've been here a year now and I am still dazed and awed by the seasons. It's so beautiful and picturesque that it's still a wonderful amazement every morning I wake up and look out the window. Spring was really dramatic. For my first few months here, I experienced nothing but snow all the way up until May. It was beautiful. And then seemingly overnight, everything was green. Also beautiful.
What's your local go-to place for a burger and a drink?
For a burger, I always go to Wicks. I have lunch there too many days. They have the best burger around. And I love the sweet potato fries. For a drink, it's Phil's Bar and Grill. It was the first place I went when I came to town, and I recently went there to celebrate my year. Whenever Val, one of the bartenders, sees me, she starts making a Perfect Manhattan, which has a half-ounce of sweet vermouth and a half-ounce of dry vermouth. She knows that's my favorite drink.
Plan Your Spring Getaway In Saugatuck
Make travel to Wickwood Inn a priority to experience this spring in Saugatuck. Discover how the fresh Lake Michigan air in Saugatuck can breathe new life into your relationship!