The Wickwood Story
Originally built in 1937, the Colonial revival house later served as the family home of Frank Wicks, the mayor of Saugatuck. It was centrally located in downtown Saugatuck, just one block from the Chain Ferry that has crossed the Kalamazoo River since 1838. Sue and Stub Louis bought the house and renovated it in 1981 as an inn patterned after Brown's Hotel in London. The Wickwood Inn, Saugatuck's first bed and breakfast, was born.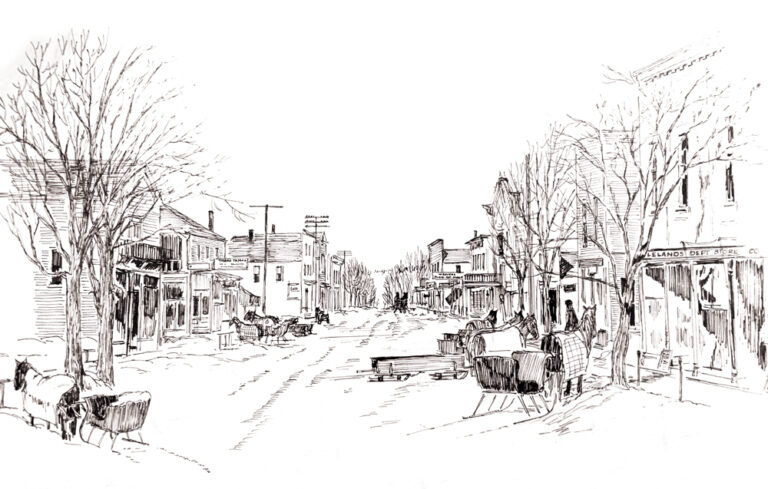 After a decade, the Louis family sold the 11-room inn to their neighbors, Julee Rosso and Bill Miller. Miller, a Holland, Michigan, native, and Rosso, a gourmet food veteran best known as the co-author of the classic Silver Palate Cookbook, transformed the Wickwood into a farm-to-table culinary destination that attracted 30 years of dedicated guests and acclaim in the pages of Travel + Leisure and the New York Times.
In 2021, Rosso and Miller sold the Wickwood to Shea Soucie and Martin Horner, founding partners of Chicago-based luxury design firm Soucie Horner Ltd. A pair of Indiana natives, Soucie and Horner built upon the Wickwood's years of traditions while adding their own stamp of timeless elegance to the inn.
What to Expect
From the stylish design details to dazzling and sophisticated food, a stay at the Wickwood is a singular experience in hospitality. Whether watching the glorious Michigan sunset with a loved one in the garden or enjoying a book by the warm fireplace, guests find no shortage of ways to luxuriate in our casual charm and amenities. The Wickwood's intimate and supremely comfortable vibe provides an inviting lakeside escape where time slows down and life is the way it was meant to be: relaxed and gracious.
Acclaim
Honors from Food & Wine, Jetsetter, and TripAdvisor
Farm-to-Table Breakfast
Dynamic seasonal New American breakfast menu seven days a week
Complimentary WiFi
Reliable high-speed connection available in every square inch of the inn
Private Parking
Easy access to parking lot directly on Wickwood grounds
Centrally Located
In the heart of Saugatuck, just steps from downtown shops and the Kalamazoo River
Payment Options
All major credit cards, mobile wallet, and virtual payment accepted
Tranquil Green Space
Beautifully landscaped gardens, outdoor gazebo, and gently lit arbor sanctuary
Designed Rooms
Each room is unique, with levels of detail and luxury unparalleled in the Midwest
Special Offers
In-house masseuse, private sailing excursions, whole inn rental available for large groups, and more
Jeff West
General Manager
"It is the perfect combination of luxury and warm hospitality, as the manager Jeff West goes above and beyond to make your stay memorable and relaxing. Wickwood Inn is charming and has been remodeled from head to toe..."
Perfection!
"Absolutely loved the B&B. Jeff was a terrific host- easy to check in (and out) and a treat and wine available upon arrival. The Inn was recently remodeled; no detail was overlooked. The breakfast was delicious...We would definitely stay there again!"
Top Notch B and B
"The interior is beautifully appointed, very comfy beds, delicious gourmet breakfast, fresh baked goodies available all day, wine and cheese gathering in afternoon. Our host, Jeff, made sure all the details were perfect so we could just sit back and enjoy. The house is in town and has a parking lot which made getting to town very easy. We talked with many repeat visitors which speaks to the quality of the experience. We will be a repeat visitor."
An Elevated Experience!
"Luxurious rooms, furnishings, and the best innkeeper in the world! There is a high level of design evident in the renovated inn, and much care is evident in the treatment of the guests. Treat yourself to the Wickwood!"
We have curated your experience with help from our exclusive collection of brand partners. Every touch and texture in your room has been hand-picked for excellence and comfort.