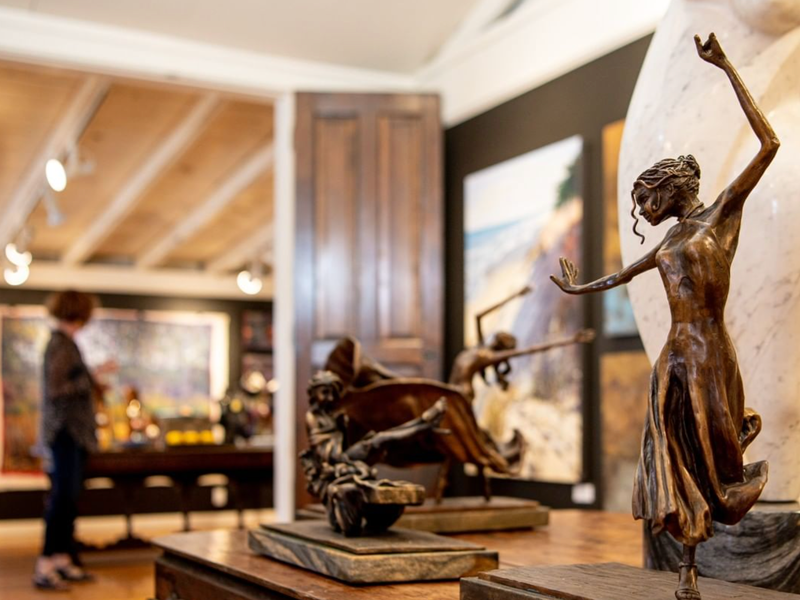 Some Of The Best Michigan Art Galleries Call Saugatuck Home
With more than a century of history as a sanctuary for artists, Saugatuck, Michigan, has been called the "Art Coast" of Michigan. Its art scene is so lively that AmericanStyle Magazine named Saugatuck one of the Top 5 Art Towns In America. Reserve a room at the Wickwood and stay a few steps away from dozens of galleries—and studios open to the public, a rare chance to see artists at work in their own environment.
James Brandess makes his studio and gallery in Saugatuck's old post office. Known for oil paintings and watercolors, Chicago native Brandess also does giclées on canvas created using atomized, pigment-based ink delivered at more than four million droplets per second. 
Good Goods describes itself as "a gallery of fine design, art, and American craft," and specializes in hand-crafted jewelry, sculpture, furniture, and ceramics. Think tea strainers made of cherry wood and rooster-shaped rocking chairs made of thin steel.
Armstrong DeGraaf Fine Art, which claims to be Michigan's oldest art gallery, has a wide roster that represents more than 50 artists, roughly half of them international.
"Every artist dips his brush in his own soul, and paints his own nature into his pictures."
The Zulu word for "voices," Amazwi celebrates African artists and artisans with a curated selection of arts, crafts, and artifacts such as an Ethiopian processional cross of nickel and a wood-carved Dogon Tribe medicine chest.
Jeff Blandford Gallery showcases the artist's wheel-thrown ceramics inspired by the mid-century-modern aesthetic,  modern architecture, interior design, and furniture design. Blandford does most of his work on a farm in Fennville, where he creates, among other things, striking clay animal heads, tiny vases, and stools.
"Love of beauty is taste. The creation of beauty is art."
The sleek, barn-like J. Petter Galleries in Douglas boasts two stories and 12,000 square feet dominated by paintings, drawings, sculpture, and glassworks by more than 100 artists. The space also houses Upscale Mercantile, a curated collection of found objects, and a "wine gallery," a bar and shop full of boutique bottle selections and artisan cheeses, cured meats, and hand-poured chocolates.
Water Street Gallery is a beautifully lit space that supports both emerging and established artists. Water Street is also known for working with design and trade professionals to help select artwork for residential and professional spaces.