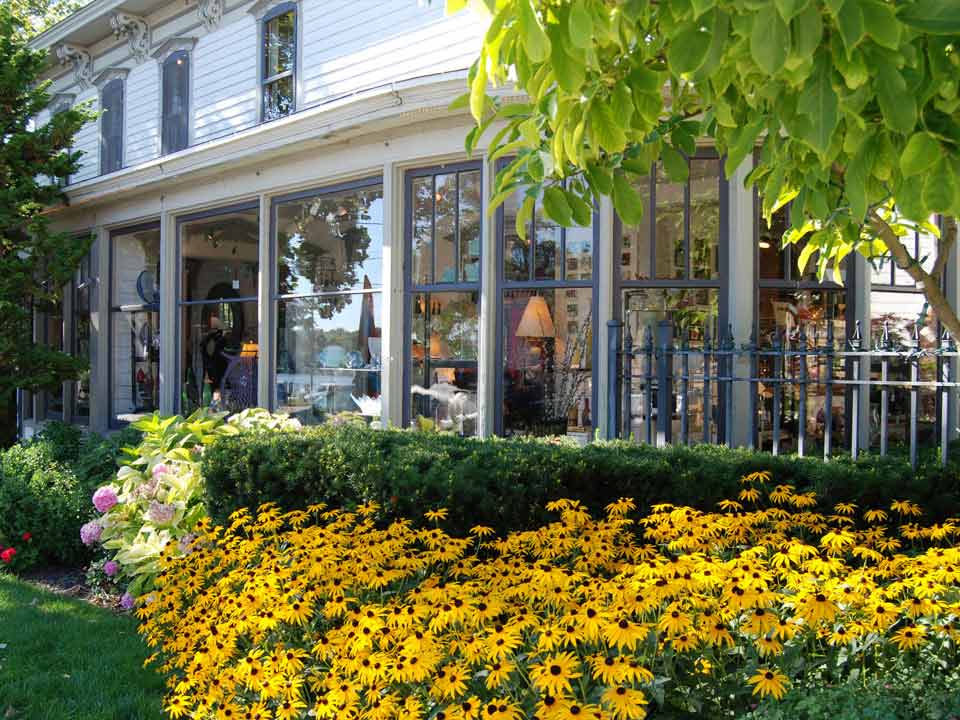 Unique Places to Shop in Saugatuck
Saugatuck is a bona fide Shangri-la for a lot of things: water, food, relaxation, art. But the town's shopping options have always been underrated. Here are a handful of memorable local places to take retail therapy to the next level.
The owners of The Pink Patio boast all kinds of "twisted fun" at their downtown home and garden store. The whimsical wares include soy candles with names like Headache Helper and Patchouli Clovebud, striking plastic mats made out of recycled bottles, and hilariously profane themed gift bags. Not to mention products by Michigan-based lifestyle brand 85 Miles—whose name refers to the fact that in Michigan you're never more than 85 miles from a Great Lake.
The Laffing Glass is the tiny workshop/wonderland of engaging glass artist Leslie Fitzell, who has been making original kiln-formed pieces for a quarter of a century. They take the form of seahorses, flowers, tacos, and sailboat nightlights. Give her a picture of your dog and she will custom craft a whimsical glass portrait out of it.
Good Goods Gallery of American Craft is a two-story boutique known for its unique collection of wire sculptures, jewelry, and ceramics. The prices can be unforgiving but we're talking about an ever changing assortment of gorgeous hand-crafted lamps, handbags, and whimsical wood-burned furniture pieces, so get your credit card ready.
"Before you judge a man, walk a mile in his shoes. After that who cares?… He's a mile away and you've got his shoes!"
This part of Michigan, and frankly, the rest of the state, is crazy about fruit preserves. American Spoon, a family-owned business founded up north in Petoskey, partners directly with local farmers and foragers, then prepares fruit by hand in small-batch copper kettles. Think sour cherry preserves, lemon curd, and Bloody Mary mix. And don't miss the homemade maple granola.
You'll find no predictable big-box toys at Teeny Tiny Toy Store. Every single item in this sweet little place has been hand-picked by the owner through annual trips to the New York Toy Fair. The walls are filled with unique games, robotic educational toys, and gadgets, and the prices are very fair. It's virtually impossible to walk out without something for your child.
LuLu Cadieux is a perfect lifestyle store. In addition to the cooking class and outings offered, it also boasts a great collection of unique finds. This means the latest art, design, and fashion icon books, clothing, antiques, vintage LV bags, leather goods, wood, ceramics. Hats off for the proprietor's awesome curation.
Just down the street is Landsharks, a great outfitter that caters to an outdoorsy set. The friendly locally owned shop specializes in outdoor gear, from snowshoeing to skiing and getting out on the trail, and goes out of its way to showcase Michigan-based brands.