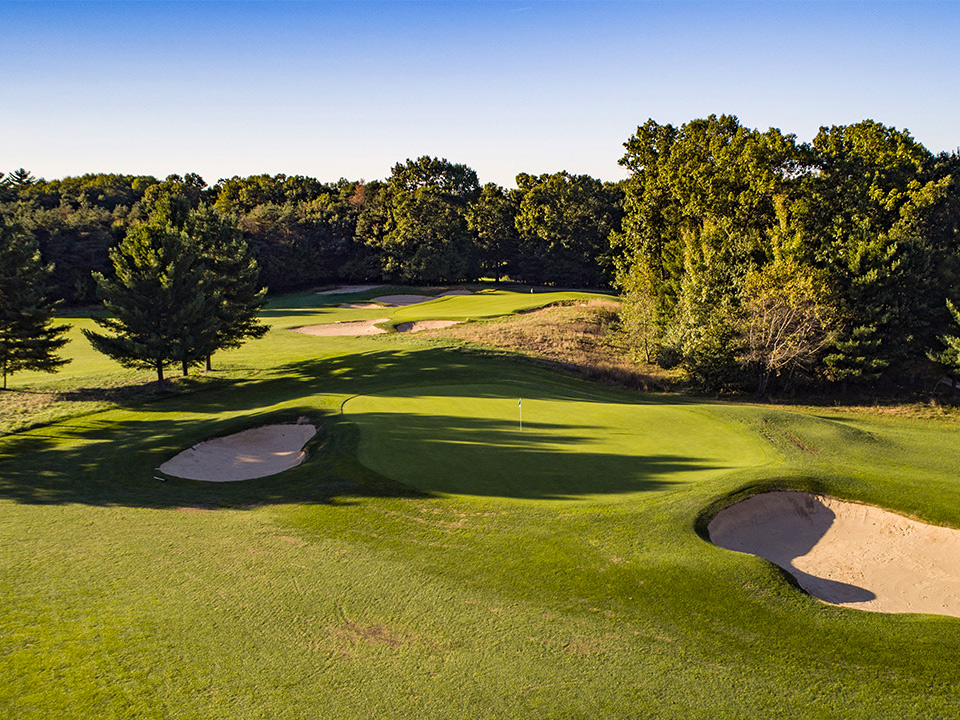 8 Best Golf Courses In and Around Saugatuck
According to Travel magazine, Michigan has 650 golf courses—more than any state not named Florida, California, Texas, or New York. When talk turns to golf around the breakfast table at the Wickwood Inn, there's no shortage of exciting courses to recommend in the Saugatuck area, many designed by some of the best-known golf architects in the world. Our golfing guests love spending a beautiful summer day on the links nearby, at any of the courses below.
If you want to play the course Golf Digest declared "a must-play when you visit West Michigan," book a tee time at Saugatuck's Ravines Golf Club right away. This stunning course, with its undulating landscape and perfectly manicured greens, was the vision of the legendary Arnold Palmer. Known for its friendly and professional service as well as its extraordinary value, Ravines boasts a stunning and serene setting.
Eighteen glorious holes laid out on well-kept Kentucky bluegrass 20 miles north of Saugatuck, Pigeon Creek entered the game in 2000 and has quickly become a local favorite. This lovely course strives to create an ambiance of family-friendly fun with the amenities of a country club, and a 12-tee driving range and two practice greens adjoining the course sweeten the deal.
Founded in 1926, Clearbrook Golf Club has undergone many upgrades over the years. Its current incarnation is irresistible. Golfers drive down tight, pine-lined fairways to "well-bunkered" greens, challenged by all sorts of water hazards and hillsides. Just a five-minute drive from the Wickwood Inn, Clearbrook also offers a driving range, putting and chipping greens, and a reliable restaurant and bar with lovely views, The Grill Room.
Located just minutes south of Saugatuck, HawksHead Links is a great choice if you want variety in your golf game. Designed by Arthur Hills, one of America's most prolific golf architects, HawksHead is an easily walkable course, and partial cart paths do allow for convenient play for those who use them. It's considered a challenging 18 holes, especially with the tall roughs.
Fun for both advanced players and those new to the game, Macatawa Golf Club offers undulating greens, unusual water features, and well positioned bunkers. Every detail has been strategically placed by Michigan native Ray Hearn, an award-winning designer influenced by classic style from the "Golden Age" of golf course design. Macatawa is located 20 miles north of the Wickwood, in the equally charming town of Holland.
Also in Holland, the ever popular Winding Creek sits on what was once a horse farm. Many holes are carved out of an old growth forest, with challenging lies, sharp doglegs, and scenic vistas galore. And, of course, beware the eponymous "winding creek," which has maddened countless golfers on multiple holes.
"Life is better when you're golfing."
Nestled in the beauty of the Allegan State Game Area, Diamond Springs is a breathtaking 18-hole public golf course, and a good value to boot. The long greens and of the first nine holes of the course can't quite prepare you for the stunning ravine that defines the final nine.
An 18-hole championship course in South Haven named for the giant beech tree framing the final hole and clubhouse, Beeches Golf Club features plenty of water and tricky sand. Designed as an affordable option for locals and visitors alike, Beeches serves up both beauty and challenge for a wide range of golfers.
Click to view the locations of these golf courses.