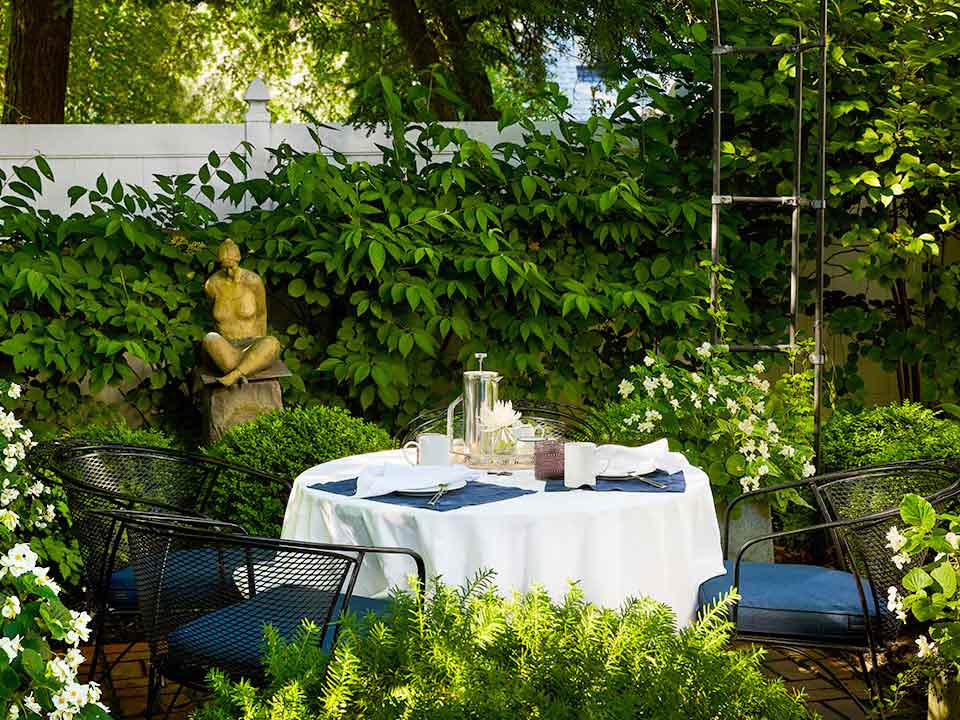 Perfect Three Day Mid-Week Getaway
In most resort towns, September means the end of summer. Savvy travelers know that it's the best time to visit Saugatuck. As other surrounding areas fade into fall, Saugatuck basks in a pleasant microclimate. As Lake Michigan warms throughout the summer, the prevailing west winds warm up as well. This warmth travels to our shores, and we're blessed with warmer temperatures than others around us. The lake remains great for swimming and boating, the beaches are perfect for long strolls, and while the sunsets happen earlier, they don't lose an ounce of beauty. Which is a long way of saying: Book your getaway at the Wickwood Inn soon. Here's a sample itinerary to get you started dreaming.
Getaway Day: 1
Check in at Wickwood Inn  |  Step into a world of comfort and luxury from the moment you enter
Grab a cup of ethically sourced, house-roasted coffee at Uncommon Coffee Roasters
Downtown Saugatuck gallery hop |  Amazwi, James Brandess, Jeff Blandford, Armstrong DeGraaf, and more…
Relax at Wickwood's social hour with various sips and nibbles from our kitchen
Stroll along Oval Beach  |  Enjoy the never-ending sandy shore of Lake Michigan
Dinner downtown |  Book a table in the gorgeous garden of Coast 236, a local mainstay known for craft cocktails and coastal-inspired food
Live music keeps the energy going | Wick's, The Butler, Coral Gables, Saugatuck Brewing Company, and What Not Inn
"The shortest distance between two points is not a very interesting journey."
Getaway Day:

 

 2
Lounge in bed with your favorite book, cozy under sleek Matouk sheets
Brunch at Wickwood |  Glorious farm-to-table meal of seasonal New American dishes in our welcoming dining room to fortify you for a day of Saugatuck adventure
Venture out |  Take a morning hike at the Saugatuck Dunes State Park
Experience the abundance of the farmers' market at the Saugatuck Center for the Arts
Head to the orchards |  Pick apples at Cranes, find the best pumpkin, try the corn maze, and treat yourself to a cider doughnut
Relax. Imbibe. Enjoy. |  Sip a pint of cider at Virtue or tour Fenn Valley Vineyards. Either way, have some cheese, salami, and light bites… but don't ruin your appetite.
Soak up the splendor |  Sunset sail with Captain Mort. Take a cruise on the Star of Saugatuck. Open a bottle of wine on the beach. So many ways to enjoy a Lake Michigan sunset.
Blowout dinner at Bowdie's Chophouse | gracious servers, plump shrimp cocktails, butter-drenched prime bone-in ribeye
Bask in the moonlight of the Wickwood Inn's gently lit arbor sanctuary
"The world is a book and those who do not travel read only a page."
Getaway Day: 3
Start out strong   |   Climb the 303 stairs up Mount Baldhead for spectacular views and stunning leaf colors. Rent a bike from In the Elements and wind your way around town. 
Brunch at Wickwood  |  Enjoy lemon pancakes with lemon curd, crème anglaise, and fresh whipped cream
Take in more color  |  Wander country roads visiting Blue Coast Artist studios, and admire the splendor of autumn along the way
Reserve Your Second Summer Getaway for a Mid-week Stay Today!
The second summer is a great time to visit us here at the Wickwood Inn, but every season has its own unique flavor. If you love this trip, start planning your winter and spring getaways now. We have plenty of great ideas for you to enjoy Saugatuck in all its glorious seasons.